Soccer Development International (SDI), founded in 2002, has a growing face in the soccer community. SDI and it's Coaching Staff, has no boundary in where they are wanted or needed, in an effort to share their wealth of knowledge in Coaching Soccer. Coaches at SDI have been working and developing players from the recreation level to the player who is professional bound. Our efforts aims to satisfy our motto: 'Develop the Player… to Develop the Game'.
With an emphasis on improving the individual player's technique, we target the individual skill development of every players who aspires to improve their game or to become great players. With the emphasis on 'technique,' Soccer Development Intl.'s staff focuses on the various techniques that players use and help them to correct and or perfect them. In the soccer fraternity, it is believed that the # 1 asset / trademark of a good soccer player is Technical Skill. Our goal is to continuously work to get each player to not only understand the necessity of technical skill, but to help them master it. Soccer Development Intl. has a very technically sound Coaching Staff on board that takes pride in working towards perfecting technique.
In the past seven years, Technical Director Neil Berment, has hand picked a variety of Coaches from numerous countries and backgrounds, who share similar passions. Their one common attribute is the joy they receive in helping players develop. These coaches, including both collegiate and club coaches, have the development of players at our Technical Development Soccer Clinics since 2002.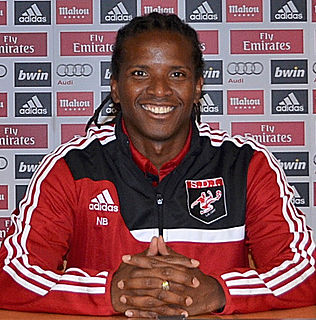 Coach Neil Berment
Technical Director
Director of Player Development
Washington, D.C
Coaching Education Certificates:
USSF 'A' License
NSCAA 'Premier' License
Coach Neil Berment, a native of Trinidad and Tobago, is a former student-athlete of the University of South Carolina-Aiken where he attained his Baccalaureate Degree in Business Administration – with a concentration in Management. Coach Neil is also a Volunteer Asst. Coach at Howard University in Washington, D.C. and a Health and Physical Education teacher at Washington Latin Public Charter School, also in D.C. In 2011, Coach Neil was hired as the Director of Soccer Operations at Georgetown University where he managed the day to day operations of the program. He was responsible for recruiting, analyzing game film, creating team videos and highlight reels, led team fundraising ventures and was also responsible for community relations and engagement.
While at Georgetown, Berment helped the Hoyas rack up another successful season in 2011. He was also responsible for helping the Hoyas sign Cole Seiler, a South Carolina native who played for Berment on the SC ODP 1992 Boys that represented the state in Regionals. Seiler who had a stellar career at Georgetown is now a member of the MLS team Vancouver Whitecaps. Several other players of that team went on to have excellent careers at the collegiate and professional levels.
​
In 2012, Coach Neil became the Head Coach for the U14 and U15 boys teams for Bethesda Soccer Club, after moving to the D.C. metro area in 2011. In his first year, Coach Neil racked up silverware by winning the NCSL U14 division. He is currently the Head Coach for the Bethesda U15 Boys Blue and the U12 Boys Green teams. This year, Coach Neil has already seen silverware by capturing the Bethesda Cup and Ultimate Cup Championships with his U12s while the U15s lay claims to only the Ultimate Cup, Richmond VA. Since with Bethesda, Coach Neil has won some accolade each year of his hire.
Between 2005 and 2011 Coach Neil was the Asst. Coach of his Alma Mata USC-Aiken, under the watchful eyes of Nigerian-born Ike Ofoje. Coach Neil was a cornerstone player on his team as the starting center-back and co-captained the team in his senior year. He played several positions in college, all mainly in defense. In 2006 the Pacers fought for the Peachbelt Championship with several players making the all-conference team. During his time at USC Aiken, Berment was also the Head Coach for several youth teams with the Aiken Soccer Club and Honolulu Bulls. Between 2004-2005 and 2005-2006 seasons, he racked up over 17 tournament championships between his two girls teams. In 2004, both his U10 and U11 girls teams reached the South Carolina State Cup finals in their respective age groups falling to their victors 1-0 and 2-1 respectively. That year, his U11 girls went undefeated in league play. The following year, Coach Neil's U12 girls (previously U11s), went a second consecutive year without a league loss and were eventual victors of the coveted SC State Cup! They also earned the right to represent the South Carolina in the Regional Championships in Tampa, FL. In 2007, Berment was hired as the Head Coach for South Aiken High School Girls Varsity, where his team had a successful season.
​
During his time in South Carolina Coach Neil, he was an Asst. Coach for the SC ODP Boys 1992 team with Head Coach Sam Okpodu. During the Regionals in New Orleans, Louisiana, Coach Neil was approached by Van Taylor, then State Director for SC and the Head Coach of Lander University and now current mentor, and was asked to consider conducting coaching courses for the United States Soccer Federation (USSF.) Berment has since conducted the USSF E, D and C courses as a State Instructor for SC. His last course was overseen by current State Director, Greg Valee.
​
While a student at USC Aiken, Coach Neil founded Soccer Development International (SDI) in 2002. SDI's focus is geared towards the development of the player in every aspect of soccer. SDI's first camp was held in the summer of 2002 with current Asst. Technical Director Franz Jones. SDI is committed to the continued overall development of soccer players, programs and teaching the fundamentals of soccer.
As a player in Trinidad and Tobago, he was a stand-out Goalkeeper and Defender for his high school, Queen's Royal College under Roderick Warner. He also had stints with semi-pro teams Caledonia AIA (Trinidad) and Caribbean Stars (Canada). Coach Neil boasts of over fifteen (15+) years of playing and twenty (20+) years coaching experiences that helped condition his coaching abilities, including his Youth National team duty for Trinidad and Tobago National Youth Team in 1989-90.
As far as coaching education, Coach Neil is currently the holder of the United States Soccer Federation (USSF) National 'A' License, and the National Soccer Coaches Athletic Association (NSCAA) National 'Premier' License. He hosts several camps throughout the year in Washington, D.C. and does team Training Session and Individual Training Sessions with players looking to develop their game. He currently resides in Kensington, MD with his wife Nicole.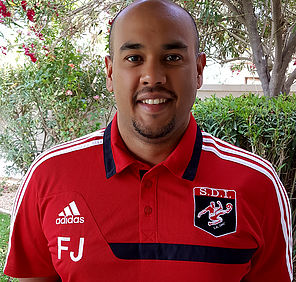 Coach Franz Jones
Asst. Technical Director
Arizona
Coaching Education Certificates:
USSF 'C' License
NSCAA 'Goalkeeper' License
Coach Franz Jones is a native of Trinidad and Tobago. He attained his Bachelor's degree in Biology from South Carolina State University before moving on to complete his Master's degree in Exercise Physiology at Indiana University in Bloomington, Indiana. Before moving to the United States, Franz was a key defender for his high school, St. Mary's College in Port-of-Spain, Trinidad. His philosophy of continued improvement and development of the player and the game led him to join Soccer Development International when it was founded in 2002. In addition to his coaching experience, Franz is a USSF 'C' License, is a USSF Certified Referee and is a Certified Exercise Specialist by the American College of Sports Medicine. Currently, Coach Franz, a Doctor of Medicine, resides in Arizona with his wife Marie and two children, Aidan and Olivia.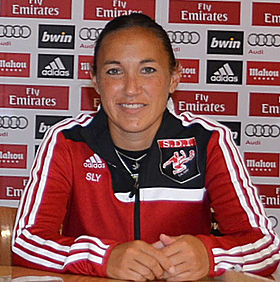 Coach Sly Yeates
Asst. Coach & Fitness Coordinator
Houston/Utah
Coaching Education Certificates:
NSCAA Director of Coaching
USSF 'B' License
Coach Sly Yeates began her coaching career as an assistant with her cousin's district team, eventually becoming the head coach in '98. Since then, she has coached for several clubs, including Extreme FC, Inter FC, Valencia CF, Utah Avalanche, and Infinity SC. In addition to coaching club, Sly spent a year as an Assistant Coach for Mountain Crest High School before accepting the Head Coach position at Logan High School the following 3 years.
Sly also spent 5 years on the ODP coaching staff. Sly, as she is typically called, began her soccer career as a Junior in High School as a goalkeeper. She then went on to play another two years at Utah State University as a forward. Aside from various outdoor and indoor leagues, Sly recently played for Sparta United in the Women's Premier Soccer League (WPSL), playing wing and forward.
In addition to coaching, Sly is a USSF Grade 7 referee and spent 6 years in the National NISOA (National Intercollegiate Soccer Official Association) Program, and still, continues to officiate at the collegiate level. Sly is currently a USSF "B" Licensed coach.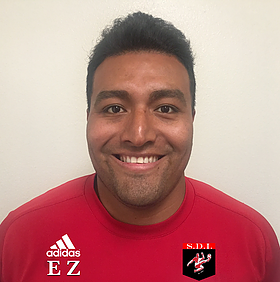 Coach Edgar Zuniga
Asst. Coach
Rockville, MD
Coaching Education Certificates:
USSF 'F' License
Coach Edgar Zuniga began his coaching career in 2013 as the Junior Varsity Soccer Coach for Richard Montgomery High School. Simultaneously, Coach Edgar was at the helm at Julius West Middle School in Rockville, MD where he saw lots of success. In 2014 Coach Edgar was promoted to Head Coach Boys Soccer Coach of Richard Montgomery High School. The Yellow Jackets evolved under Coach Edgar's guide for the next few seasons while he took on teams for the Pachuca Football Club and Rockville Knights Football Club. Currently, Coach Zuniga is coaching for Bethesda Soccer Club and is the Head Coach for the BSC U15 White. He is still the Head Coach for the Julius West Middle School.
​
As a player, Coach Edgar had a standout career. He was awarded the accolade of All-American in high school for Richard Montgomery then went on to play collegiate soccer for Radford University, and Shepherd University where he played his last 3 years. Coach Edgar had an Internationally stint with a pro team in the Bolivian 1st Division. He also had shorter stints with semi-professional teams Jorge Winsterman FC- Second Team/Reserves and Real Maryland FC- Reserves. Coach Zuniga lives in Rockville, MD and continues to play competitively in the DC area and grow as a Coach with SDI assisting with player development.
Stay up to date & join our email list
Soccer
Development
International
Soccer Development International offers a wide variety of services for the new or experienced soccer player to contribute to their continued development in the sport.
Phone
(O): 803-400-3074
(C): 803-507-4122
Address
P.O. Box 34113
Bethesda, MD 20817